Bob's Driveline Transfer Case Service in Aldergrove is an important service we provide for our local community.
With its complex system of belts, gears and chains that keep your vehicle operational, both the differentials and transfer case help to direct power to different parts of your truck.
While older model's mechanically operate each axle for engine torque output, new model vehicles offer electronic functions built into the transfer case, which will automatically adjust the torque.
Whether dealing with a stand-alone transfer case, or managing the Powertrain Control or Transmission Control panels; maintenance can improve the driveability, lifespan and fuel efficiency of your vehicle – and Bob's Driveline is here to help!
How Often Should Transfer Case Servicing Happen?
With summer just around the corner, many of our customers are heading out with their trailers to enjoy everything this beautiful province has to offer. And as mentioned on our transfer case page…
If you are towing heavy trailers and using four-wheel drive frequently you should consider T-Case service every 25,000 Km. So, while it may be seem more economical to wait till 100,000 Km to change the transfer case fluid, waiting could cost a lot more than regular drivetrain service.
For vehicles not towing heavy trailers or equipment, servicing your driveline every 50,000km is standard. Keeping the fluid changed regularly will ensure any checks for leaks or damages are conducted, as well as keep your gears, chains, bearing, shafts – and other moving parts, protected and running as they should.
Transfer Case Service in Aldergrove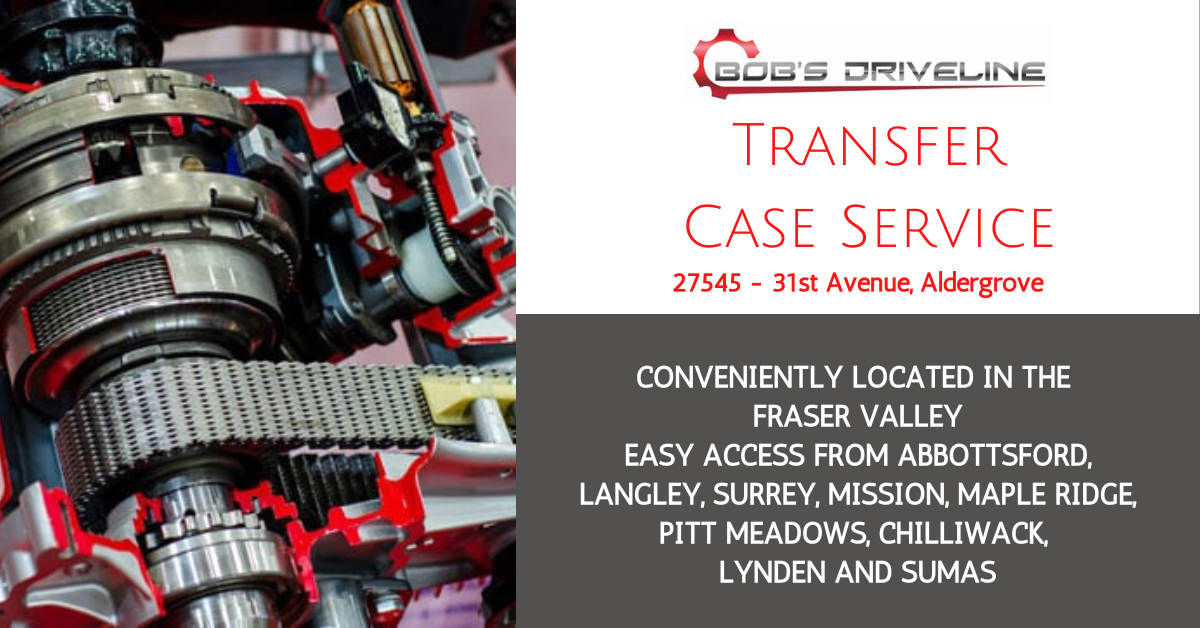 As mentioned in our previous blog: Bob's Driveline delivers expert transmission and transfer case repairs in the Fraser Valley, as well as differential repairs. Our professional transfer case rebuilds and repairs in Aldergrove provide a value-based service for your 4×4 vehicles, keeping them operating effectively based on how you choose to drive and what you choose to tow.
Contact us by phone at (604) 856-8816, visit us at 27545 on 31st Avenue in Aldergrove, or fill out our online form here with any questions you might have.
We look forward to helping you with your truck repairs and maintenance, keeping your summer plans in forward motion without unexpected interruptions due to mechanical emergencies.