Your transmission's long-term performance depends on preventative maintenance and timely repair from your local transmission mechanic. Each component, from the flywheel, to the clutch, to the hydraulics requires regular and precise technical analysis and service. Only the most experienced technicians, working in a Langley transmission shop built for daily diagnostics and repair, can offer this consistent unmatched quality. From flushes to rebuilds and replacements, transmission service is our specialty at Bob's Driveline.
Our entire business is built to provide transmission work more efficiently and effectively than any other shop, keeping our prices affordable to pass the savings on to you.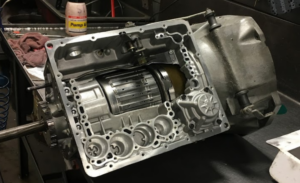 Transmission Fluid Change vs. Full Service
A proper transmission service involves removing the transmission fluid pan and exposing the internal components. An inexperienced service provider can easily cause damage with this procedure. You could get a transmission fluid change done at a quick lube shop or general repair shop where they don't remove the pan to access the inside of the transmission and replace the filter, but what is it really worth? When you change your engine oil you wouldn't think of doing so without changing your oil filter at the same time because the new oil will just get contaminated with the dregs left in the filter. A transmission could be flushed to try cleaning the internal filter, which partially removes contaminants, but a filter works by trapping particles so if it works as designed, some particles will remain in the filter, thus reducing fluid flow, and leaving the possibility of particles jarring loose to cause further damage in the future. Transmission fluid filters are an internal component on almost all vehicles, so the tranny fluid pan must be removed to replace the filter and thoroughly service your transmission. This type of proper maintenance costs a little more than a simple fluid change or flush but it's far less expensive in the long run.
We Won't Remove a Transmission Unless it's Absolutely Necessary
When your transmission needs a repair, many, if not most, transmission shops will do everything they can to get your transmission pulled out of your vehicle. For a full overhaul, of course that's necessary, but many inspection, service and repair procedures can be done without pulling out the transmission, thereby saving you a lot on labor cost. Removing the fluid pan for a full transmission service also allows for a very thorough inspection of many of the critical components including the solenoids, valves, springs, some of the seals, pistons, servos, and the entire valve body itself. Even repair or replacement of these critical components can be done via this access port into the transmission without removing the transmission from the vehicle.
Gravy, Soup, or Stew
Your transmission fluid can provide a lot of clues as to what's going on without even looking inside your transmission. With a normal transmission service your fluid should always look and smell clean. It may be a little milky or tinted from its original color but anything worse could indicate damage that should be repaired as soon as possible to avoid greater expense.
At Bob's Driveline we facetiously categorize the fluid we see coming out of transmissions into three grades; Gravy, Soup, or Stew. Gravy is thick, dark fluid that tends to indicate the transmission has overheated, the fluid hasn't been changed for quite some time, and/or it's been contaminated. A transmission in this condition might be repairable without removing it from the vehicle but other tests and inspections are required to be sure. Soup is like gravy but with small discernible particles in it. This usually indicates that the friction surfaces of the clutch plates have been burned up or ground down. There may be additional bent parts found once the transmission is opened up but an overhaul will be required in any case. If it's just these so called Soft Parts it won't be too expensive because, for most vehicles, these clutch plates, seals, gaskets, etc. all come in a mass produced rebuild kit. If the tranny fluid looks like Stew, meaning it contains actual chunks of metal, it indicates some of the internal Hard Parts have been broken. The full extent of the damage won't be known till it's opened up but in this case a full rebuild of both the Soft Parts and some Hard Parts, or a replacement transmission, will be required.
Bob's Driveline has vast experience with Domestic Vehicle Transmissions, typically using the following brand or model names:
GM
Ford
Dodge/Chrysler
200R4 – 700R4
C3 – C6
TorqueFlite
Turbo 350/Turbo 400
CD4E
A404
Hydra-Matic
5R44/5R55/5R110
Ultradrive
4L60-E/4L65-E/4L70-E
4R70W/4R75W/4R75E
45RFE/545RFE
4T60-E/4T65-E
4R100/5R110W
65RFE – 68RFE
4L80-E/4L85-E
4R44E/4R55E
A16/47RE/58RE
6L80-E, 6L90-E
AX4N/4F50N
A500/42RE
8L90-E
AOD/AODE
A518/46RE
T5 & T56 Manual
AXOD/AXOD-E
A604 – A606
Allison 1000 Series
4F27E
TF8/727
6R140
Aisin-Warner
AWF-21
Mercedes-Benz 5G-Tronic
6F35 – 6F55
Mercedes-Benz G56
10R80
Powershift
Of course there are numerous variations and additional makes and models besides the ones listed above but all of them use the same technologies and systems so they can readily be serviced and repaired by our expert team. We also work extensively on German, and Japanese import models. We service, repair, and modify both automatic and manual transmissions as well as torque converters and clutches. We have in-house Hot Flush, Flywheel Resurfacing, and Control Module Reflash equipment, and the expertise to apply our services to your vehicle efficiently and effectively, so all your drivetrain needs are taken care of thoroughly without any unnecessary expense.
Visit Bob's Driveline for all of your Automatic Transmission Repairs, Service & Maintenance. Serving clients from Aldergrove, Langley, Abbotsford, and throughout the Lower Mainland. Call (604) 856-8816 to schedule an appointment, or book your appointment online HERE.
Read Our Latest Transmission Repair Content