Do you require an urgent transmission service? Or a have general auto repair issue and require advice from an experienced auto mechanic? Our Red Seal technicians are here and ready to respond in minutes to drivers throughout Aldergrove, Langley, and the surrounding area.
Bob's Driveline
27545 – 31 Ave. Aldergrove BC.
Canada V4W 3L4
Hours
Open: Mon – Fri: 8:30am – 5:00pm
Closed: SAT, SUN and Stat Holidays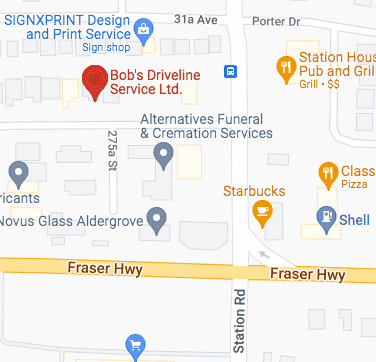 Send us a Message
We want to hear from you. Please send our transmission service technicians a message and we will be happy to see how we can help.
Hear from Our Customers
Took my vehicle in immediately, got a loaner, gave my vehicle priority and returned it promptly repaired and didn't overcharge. Super impressed. Highly recommend
Bob, Thanks again for the work you performed on my 1995 Jeep Cherokee.The rebuilt transmission is running very well,and shifting smoothly and predictably.The break in period is just over,and the advice i got from Joe regarding trailer pulling and weight considerations will definitely help this summer.We are looking forward to pulling our trailer out to Alberta this year,and we have a lot more confidence in our vehicle now. Also i have to say as a technician myself,i though the detailed explanation that Joe gave regarding the diagnostics and final repair,was very impressive.I really appreciate the detail expressed during the diagnosis and certainly a level of professionalism and pride you don't see at many shops any more. sincerely John Hughes
Dear Bob's Drive line Services I would like to take a moment to thank the crew at Bob's Driveline Services for going the extra mile for your customers. About 2 years ago I brought my truck in and had the transmission rebuilt and I was so impressed with the service that I received. I was so happy with the service that when I needed more repairs I didn't hesitate to call again. My family and I would also like to thank you for staying late that Friday night so I could come in and get the kids bikes out of the back of the truck.
Now I know this might sound like a TV commercial but its true and that is customer service.
Thank you
I just wanted to thank Joe and Dave for saving my wife's car's life. I was told by another certified auto repair center that my transmission was on it's way out and to get rid of the car ASAP. We spent over $350.00 for supposedly professional tranny flush and oil filter change. We started feeling a hum in the drive train after that servicing. They blamed the cars mileage and proceeded to add a transmission additive, which made things worse. We have a 2003 Mercedes CLK320 coupe. I called Joe and Dave at Bob's Driveline and they booked me in, did a test drive, and recommended a full tranny service.
I'm pleased to say the noise is gone and now we can keep enjoying the car we love and have taken great care for the past 12 years. You guy's are life savers! I will never go any where else and will tell everyone about my professional and enjoyable experience. Great job gentlemen!
I had a problem with my van's transmission that was difficult to explain. When it was tested, no codes came up. I knew there was something, and Joe did too. He patiently listened to me describe what my van's symtoms were and tried to find the source of the problem. My van hung out at Bob's Driveline for 36 hours while I nervously waited at home for the news. And drove around in their loaner van, which was great to have (not all shops I have gone to in the past have a loaner car, let alone a full size van). And YES!
The guys found a seal that had a crack in it; and all was fixed. So glad I didn't have a big transmission problem, and more importantly, so glad I didn't have to hear, "I'm sorry, Mrs. Fullerton, but there's nothing we can do…" I also have an unrelated steering problem that was researched and a "prescription" for fixing it was ready for me when I picked up my van. I am speechless and grateful. Now I can sell my wheelchair van knowing the transmission is in great shape, and the steering won't be moaning and groaning anymore.
THANK YOU Bob's Driveline – you made my day!
Read Our Latest Auto Service Posts