Although maintenance plays an imperative part in securing the safety and lifespan of your vehicle; there are some maintenance myths worth knowing. As an Aldergrove Vehicle Maintenance specialist, we want to share these top 4 with you to help you save time and money, without foregoing safety.
4 Auto Maintenance Myths Worth Knowing
1. Your Oil Should Be Changed Every 5000km
Where this can be the case for older model vehicles or those that utilize their vehicles for hauling and long trips on mountain passes, newer model vehicles can last anywhere from 8000-12,000km.
2. Independent Auto Shops Nullify Your Warranty
Your vehicle's warranty is not dependent on where you have your vehicle serviced. Although your auto dealership will try and make a case for the importance of having it serviced with them; often times their service comes at a premium. Independent auto service centres are both equipped, and often more affordable, while keeping your warranty perfectly intact
3. Replacing All Your Tires is Imperative
Having to replace all 4 tires when a single tire is too damaged to repair, is a costly ordeal. This can be avoided depending on the quality of your remaining tires, and is worth the conversation with your mechanic.
4. Transmission Fluid Needs to Be Changed Every 80,000km
Again, when it comes to newer model vehicles, most can manage twice this range. Every vehicle varies, and is based too on how the vehicle is being used. Your vehicle's manual will provide you with the recommended transmission flush intervals – which Bob's is happy to provide!
As discussed on our blog post BOB'S DRIVELINE MAINTENANCE & REPAIRS:
For vehicles not towing heavy trailers or equipment, servicing your driveline every 50,000km is standard. Keeping the fluid changed regularly will ensure any checks for leaks or damages are conducted, as well as keep your gears, chains, bearing, shafts – and other moving parts, protected and running as they should.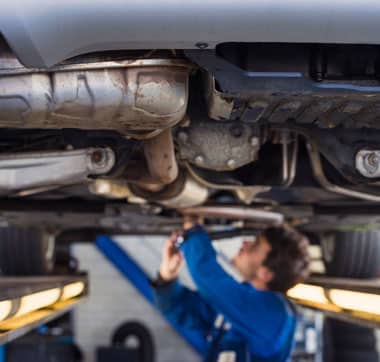 Aldergrove Vehicle Maintenance: Our Powertrain Repairs Include…
Flywheel Replacement
Brake Service
Chassis Lube
Complete Driveshaft Service
Differential Service
Filter Replacements
Flywheel Resurfacing
Oil & Filter Change
Pack CV Joints
Pack Wheel Bearings
Power Steering
Power Steering Flush
Rebuild / Replace CV Axles
Manual Clutch Replacement
Street Rod & Custom Car Specialist
Visit Bob's Driveline for all of your Car, Truck, Van and SUV General Repairs, Service & Maintenance. Serving clients from Aldergrove, Langley, Abbotsford, and throughout the Lower Mainland. Call (604) 856-8816 to schedule an appointment, or book your appointment online HERE.